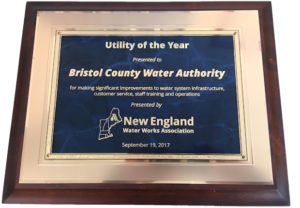 HOLLISTON, Mass. — Bristol County Water Authority (BCWA) received the 2017 Utility of the Year Award from the New England Water Works Association (NEWWA), the region's largest and oldest not-for-profit organization of water works professionals.
This award recognizes utilities that have made significant improvements to water system infrastructure, customer service, staff training, and/or operations to further protect public health of the customers they serve.
BCWA is the 2017 award recipient in the medium-size systems' category, which includes utilities that service a population between 3,301 and 49,999. BCWA serves a population of 49,771.
BWCA supplies water to the communities of Bristol, Warren, and Barrington, Rhode Island. For many years rates were very low and infrastructure improvements were relegated to emergency repairs. That changed in 2013, when the Board of Directors and water system administrators adopted a Utility Strategic Plan and comprehensive, 20 year capital plan for infrastructure replacement. The Board approved rate increases of 3 to 4 percent each year to meet the goals of the strategic plan and insure support for the capital plan, system maintenance, and reserve funds. This progressive approach to system administration and management has already allowed for system improvements. These improvements include the renovation of a major pump station, replacement or renovation of 38,000 feet of water main, the hiring of highly skilled operators to replace retired workers, the purchase of a new metering system, and the creation of an online customer portal where customers can learn about their water system and access payment options. These improvements and more are aligned with BCWA's vision of being a model regional water utility based on its customer focus, water quality, reliability, and efficiency.
The award will be presented to a BCWA representative on September 19, 2017, during the 136th NEWWA Annual Conference in Brewster, MA.
The New England Water Works Association is a nonprofit, independent, member-driven organization dedicated to serving the region's water works professionals and the public interest. It is the oldest and most active regional water works association in the United States. For more than a century, NEWWA has worked to improve and sustain public water supplies, protect public health and safety, and advance the water supply profession. Visit us at newwa.org.