Bristol County Water Authority crews were working to repair a water main break along Hopeworth Avenue in Bristol on Friday, January 5 2018.
By Scott Pickering
The frigid temperatures that have made life difficult above the ground are making it equally difficult under the ground. For three days, water mains have been bursting throughout Bristol County, and crews have been chasing the leaks and repairing ruptured pipes amid some of the coldest, sustained weather the region has ever experienced.
On Friday, one crew repaired a burst main along Hopeworth Avenue in Bristol, while another worked on a main along State Street in downtown Bristol. In both cases, road crews from the Bristol County Water Authority had to shut down water to the surrounding neighborhood while they worked.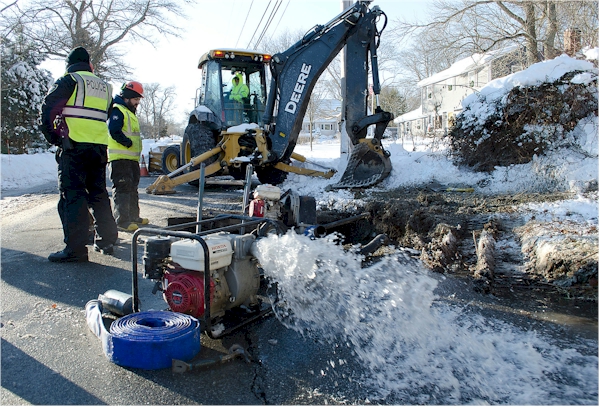 Since Tuesday, multiple mains have burst in Barrington, Warren and Bristol.
Water Authority Executive Director Pamela Marchand said, "We've been working around the clock."
Fixing the water mains is brutal work, as crews have to dig at least six feet beneath the soaked roadway, trying not to get soaked in the process, and either replace sections of pipe or put large sleeves on them to seal the leaks. They work in wet, muddy holes, often without gloves, because they need finger dexterity to manipulate the tools and finish the repairs.
Ms. Marchand said the cold and wind make life very difficult, but the snowstorm created an entirely new challenge. "Right now, our main problem is finding them," she said.
When a pipe bursts, the water ultimately finds its way to the surface. But with so much snow covering roads, sidewalks and intersections, it can be difficult to even see the water.
Ms. Marchand said they suspect another leak on the east side of Metacom Avenue, because the authority's high pressure water tank is draining much quicker than it should be.
The breaks are occurring for two reasons. First, the cold temperatures are extending the frost line deeper and deeper. Ms. Marchand said the earth is frozen up to two feet deep at this point. That frozen, expanding earth can create enormous pressure on the pipes beneath.
Secondly, she said dramatic changes in temperature wreak havoc beneath the surface. "It was cold, then it warmed up, then it got very, very cold," she said. "You start getting a lot of ground movement with all those changes in the weather."
Ground movement is not good for the water authority's miles of old, cast iron water mains. As the ground expands, shifts and moves, the pipes don't bend, they break.
On Friday afternoon, Ms. Marchand predicted they would be chasing and repairing broken water mains for the foreseeable future. She also warns that people may start seeing their service lines freeze.
"We highly recommend that people run water to their faucets, even if it's just a trickle," she said. Moving water can help prevent frozen pipes.
Despite the brutal conditions, she said crews will continue working to keep the water system operational. "We have a terrific staff, and they working really hard right now," she said
This story was originally posted by EastBayRI.com. Click here to view the original story in its entirety.