WATER SYSTEM IMPROVEMENTS
Cutler Street, South Cutler Street and Mulberry Street
The BCWA will install new water pipes in Cutler Street, South Cutler Street and Mulberry Street during the spring and summer of 2017. This project will replace old rusted cast iron pipes with new ductile iron or plastic water pipes. The project involves replacing approximately 1800 feet of pipe on Cutler and South Cutler Streets and 350 feet of pipe on Mulberry Street. When the work is complete, water quality and fire protection in these neighborhoods will be greatly increased.
BCWA has hired JML Excavation Inc of Bristol to perform the work. The estimated project cost is $600,000, which includes the new water pipes, police protection and other related costs.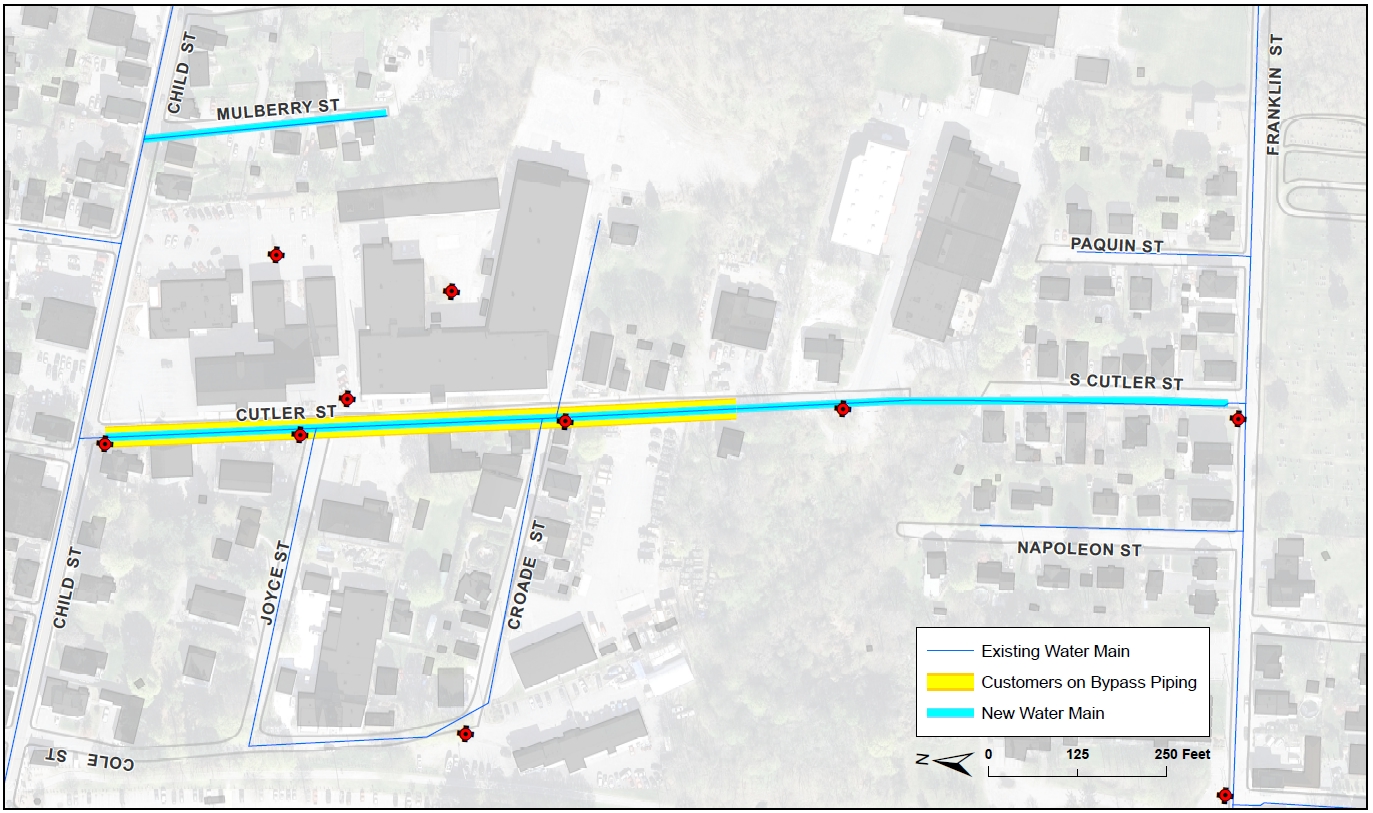 HOW WILL THIS WORK AFFECT YOU?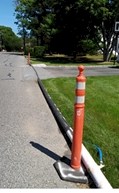 In order to perform these upgrades, some of the pipes on Cutler Street must be taken out of service for several weeks. While the water pipe is shut down, water supply will be provided to customers through temporary above ground water bypass pipes. The Contractor will begin setting up the bypass piping in May. These pipes will be connected directly to the homes and businesses.
The water in the bypass pipes is safe to drink. It is tested and meets the same high water quality standards as the water from underground pipes. The temperature of the water will be affected by outside temperatures, and may be higher than normal.
PLEASE WATCH YOUR STEP!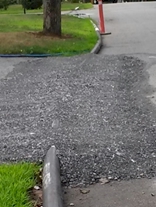 Temporary water service piping at driveway entrances will be covered with an asphalt or rubber temporary ramp. At parking lots and street crossings, the pipes will be buried below ground. There will also be smaller hoses connecting the bypass pipes to your building.
PROJECT SUMMARY
BCWA will replace the water pipe in South Cutler Street first. This will start in April. However, because the new water pipe will be in a different location than the existing ones, customers will not be required to use bypass piping.
Installation of the bypass piping on Cutler Street will begin in May. Once complete, the installation of new water pipes will begin.
The work on Mulberry Street will be done last, and will not require customers to be connected to bypass piping.
All businesses on Cutler Street will remain open during the construction.
If a temporary water service shut-off is necessary, affected residents will be notified 48 hours in advance. Scheduled service interruptions will be minimized to the extent possible.
Trees and plants in public space will be protected to the extent possible. If removed or damaged, they will be replaced. Any damage to private property will also be repaired.
Please use extra caution when walking, driving, biking or running in the construction project area and over any temporary piping structures
BCWA will require the Contractor to maintain the area safe throughout the project and all areas will be restored to original conditions.
All areas excavated will be restored and patched with temporary pavement as soon as possible.
Normal work hours: 7:00am – 5:00pm, Monday through Thursday.
Police Officers and flagging operations will be used daily for each construction phase to maintain traffic in the construction work zone. While construction access to the site may be allowed from South Cutler Street to Cutler Street, there will be no through traffic allowed after hours or at the completion of the project.
TEMPORARY INCONVENIENCE, PERMANENT IMPROVEMENTS

Clear, clean, high quality drinking water and adequate fire protection is our ultimate objective in all this activity. We realize that there are going to be some inconveniences during the project such as noise, dust, water shutdowns, traffic detours and temporary pavement. Please keep in mind that these temporary inconveniences allow us to make permanent improvements to our system. Thank you for your patience and cooperation. Should you have any questions or concerns the project, please don't hesitate to call our office at 401-245-2022 between 8:30 AM and 4:00 PM, Monday – Friday.