1. Increased Fire Flow in the Poppasquash Area, Bristol
Bristol County Water Authority completed the second phase of a project intended to bring more water flow to the Poppasquash area of our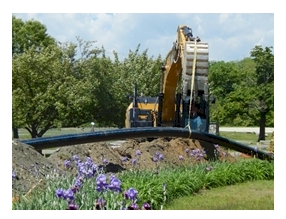 distribution system. This project included the installation of approximately 4500 feet of 10" high-density polyethylene (plastic) water main. The new main replaced an old 6" cast iron water main that was originally installed by Samuel Colt to provide water to his estate, which is now Colt State Park.
Prior to this project, the water mains serving this area provided safe water for consumption, but not fire protection. By strengthening the connection of the area to our main distribution system, and increasing the size of the water mains, the fire hydrants can now be used for firefighting, if needed.
2. Cleaning and Cement Lining of Water Pipes in the Maple Avenue area, Barrington
Most older water mains are made of unlined cast iron. Over the years, these pipes get mineral deposits that, while safe, can decrease water volume in the pipe and discolor water for customers. The water mains in Maple Avenue, Barrington Avenue and South Street were installed before 1935. We knew from customer complaints and flow testing that the pipes had considerable build up (rust) on the insides.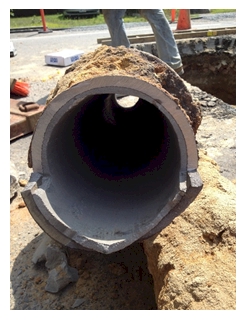 To minimize disruption in the high traffic area, BCWA improved the water mains by "cleaning and lining" the pipes, rather than replacing them. This method allows the work to be completed using several "access pits", rather than digging trenches along the entire length of the streets. First, crews scraped off the mineral buildup in these mains. Then, a cement lining was installed on the inside of the pipes to prevent the cast iron water main from future mineral build up. The work should effectively double the life of the water mains and keep the water that goes through them clear. (Since the mid-1960s, BCWA has installed ductile iron pipes that come with a factory-installed cement lining for any new water main installations.)
In addition to providing improved water quality to this neighbourhood, this project also improved the fireflow available. Tests done on the fire hydrants before and after the cleaning and lining project, confirmed that the many homes and businesses in this area have improved fire protection available through these newly lined pipes.

3. Rehabilitating Asbestos Cement Water Mains in Melrose Avenue, Barrington and Hopeworth Avenue and Willow Lane, Bristol
Some older water mains are made of reinforced asbestos cement. Over the years, these pipes have become brittle and are subject to breaking.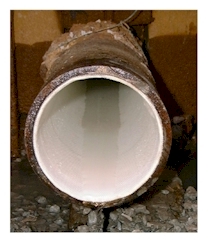 Bristol County Water Authority renovated some of these pipes in in our system by installing a structural liner inside the pipes, creating a "pipe-within-a-pipe".
BCWA upgraded the water mains in two areas of the distribution system:
• Melrose Avenue, from Hawthorne Avenue to Anchorage Way in Barrington
• Hopeworth Avenue, from Viking Drive to Willow lane and the entirety of Willow Lane in Bristol.
We also installed approximately 200 feet of new pipe in Ruth Avenue to connect the dead end of the water main in Ruth Avenue to the water main in Hopeworth Avenue. This improves the water quality and the flow through the pipes in this neighbourhood