The BCWA will install new water pipes in portions of Ferry Road and in Fairview Drive during the fall of 2018. The project is being done in conjunction with two town projects that will improve the sewer system and drainage in this area.  This collaboration will result in less overall disruption to the local residents and motorists in the construction area. It will also provide savings for both the Town of Bristol and BCWA on paving, police protection and other shared costs.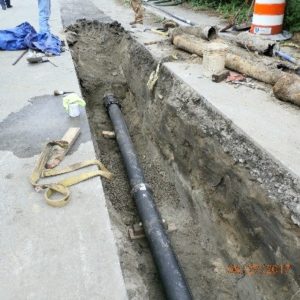 On Ferry Road the work will take place from the Wood Street intersection to south of Griswold Street.  This project will complete a 12" transmission main loop throughout Bristol and Warren that will strengthen our distribution system.  Two smaller old water mains will be replaced with one larger new main. Completing this last link in our transmission network improves fire protection and redundancy, providing a more reliable flow of water for our customers.
In Fairview Drive, BCWA will replace a water main installed in the 1950's with a new 6" cement-lined ductile iron main.  One of the pipes being replaced in Ferry Road is almost 100 years old.  These older pipes have been known to deteriorate and cause leaks in the system over time.
The project has been awarded to C.B. Utility Company (C Brito Construction) and work will begin in September of 2018.   The estimated project cost for the water main work is $ 750,000, which includes the new water pipes, police protection and other related costs.